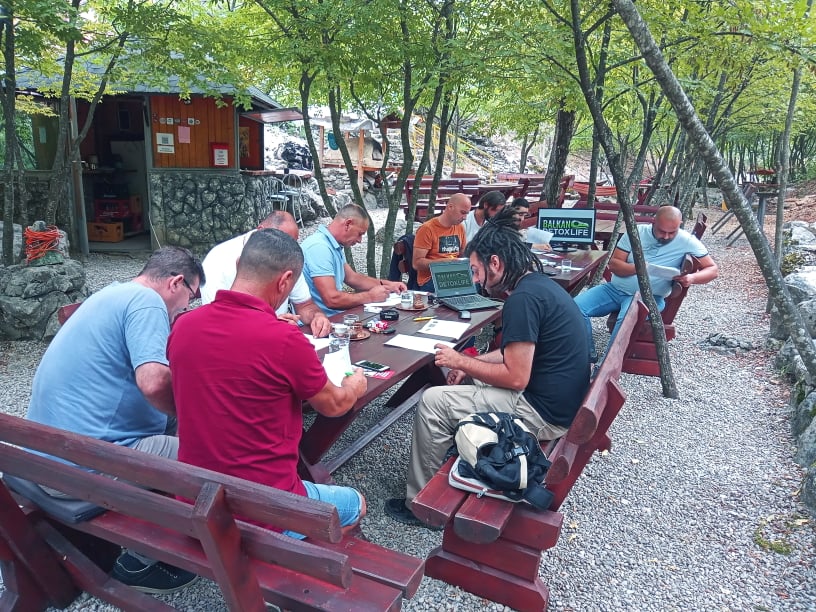 Illegal animal poisoning in Bosnia and Herzegovina poses a significant threat to wildlife, the environment and public health, just like in other Balkan countries. As part of the BalkanDetox LIFE project, the local project partner Ornitološko društvo NAŠE Ptice (ODNP) conducted educational workshops in hotspot areas to help combat this problem in the country.
Educational initiatives to combat wildlife poisoning
The local project team recently carried out two educational workshops to raise awareness among key target audiences in hotspot areas.
On Thursday, 9 September 2021, the first workshop in Kupres took place, hosting 15 participants, including stockbreeders, farmers, hunters and veterinarians. The workshop's goal was to present the problem of animal poisoning and all the dangers this illegal practice poses to animals, humans and entire ecosystems to the relevant local population, involved in livestock, agriculture, hunting and veterinary medicine.
The second workshop in Blagaj took place on Sunday, 17 September, welcoming 10 participants, including stockbreeders, veterinarians and NGO members. All participants filled a questionnaire and engaged in informal discussions, which revealed important information.
Besides these two workshops, ODNP presented the BalkanDetox LIFE project on Ornithofest in Blagaj between 22 to 24 October. ODNP organises Ornitofest every year, inviting ornithologists from the region to present their work and experiences.
Insights gained from the educational initiatives
Through the educational initiatives conducted, ODNP noticed that poisoning regularly occurs in Blagaj and Herzegovina, with stray dogs being the most common victims. Furthermore, if people come across this serious environmental crime, they rarely report it to the police. Instead, locals usually just remove the poison baits themselves from the field to prevent poisoning of dogs and kids.
The project team aims to convince people to call the police or ODNP to arrange the proper inspection. Even if there is not enough evidence to convict the perpetrator, a visit by an inspection team to the field can scare them and prevent future poisoning activity.